Warehousing Services
RAM provides world class fully integrated Pick & Pack warehousing facilities, specially designed for items with a higher price tag per piece.
In addition to pallet space which is available at RAM's Warehouse operations, our facilities utilise automatic and manual strapping machines, high bay reach trucks; counter balance forklifts, dock levellers and goods lift.
Our warehouses have state of the art RAM security and access control, sprinkler systems, fire-fighting equipment and separate entry/exit routes.
The warehouse operations include two integrated Information Technology systems –
Matflo Warehouse Management System
RAM Management system for consignment and despatch.
RAM's Matflo Warehouse Management Software contains an inventory management system which controls the movement of products according to, inter alia, FIFO date management. Hence we are able to rotate products in accordance with the FIFO (first in, first out) principle.
We pick the product based on a strict FIFO principle, using the batch number allocated to the products on receipt. Batch number is used to ensure traceability.
Matflo maintains the following information with which it can control the movements of the product –
Batch/Lot Control
Serial number control
FIFO date management
Weight
Volume
Optimum pallet quantity
Primary storage area
Item Cost
Please contact your Sales Executive or our sales department at info@ram.co.za in order to take full advantage of our Warehousing Service.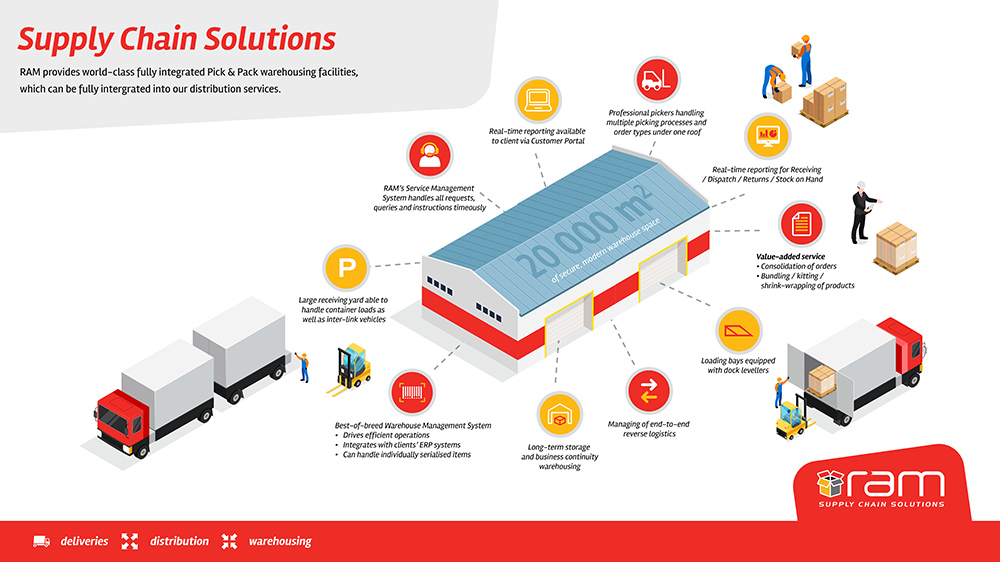 Download